NCIS: Los Angeles: Is Hetty Gone For Good?
There is speculation the ongoing absences of NCIS: LA's Henrietta Lange indicate she's on track to be written out for good.
Since its premiere in 2003, NCIS and its multiple spin-offs have become one of the most successful procedural crime dramas. Recently, the original series lost its token fatherly mentor character, Special Agent Gibbs, and spin-off NCIS: Los Angeles might be preparing to write off its own beloved character, Henrietta Lange, better known as Hetty.
Portrayed by Linda Hunt, Hetty's official title is Operations Manager for the Office of Special Projects. To the Los Angeles NCIS team, however, she is that and much more. Adoptive mother and mentor to main character G. Callen, she also is a strong and constant maternal presence to the others at the LA division of NCIS. A main character since the beginning of this first NCIS spin-off, this presence has also extended to the fan base, at least until recent seasons.


Hetty's significant stretches of absence start in season 10, when she tells Callen, discreetly, that she will be gone for some time. She proceeds to be absent for the majority of the season, reappearing in the 17th episode, "Till D****h Do Us Part" to officiate the wedding between two other main characters, Marty Deeks and Kensi Blye, only to disappear. Again.
The lack of physical presence in the office becomes a trend over seasons 11 and 12, where she disappears for episodes at a time, with no proper explanation. The mystery shrouding Hunt's character is nothing new, as from the start of the series, the revelations of her secrets and their ramifications have served many a plot-line. Her increasing absences have, however, caused fan speculation over the writer's eventual intentions with Hetty. The Season 12 finale sees her return, after being gone for most of the season and hints at the her resuming her in-house post of Operations Manager.
Considering the last few seasons have been filmed during he tumultuous time of the C****-19 pandemic, Hetty's absenteeism has been a convenient way to protect her actress. Hunt, being a part of the most vulnerable population of the pandemic, is able to maintain her position without putting herself at risk, as long as her character stays away. With increasing knowledge of better protocols and with the availability of vaccines, and the events of the season 12 finale, many viewers of the show assumed this would mean Hunt's presence would also increase during the ongoing 13th season. That has not been the case, however, as Hetty has remained absent.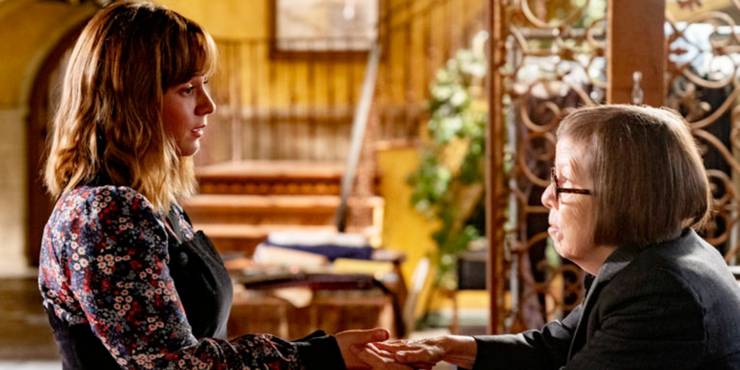 Avid fans of the show eagerly await the reveal of one of Hetty's biggest ongoing secrets; why she recruited Callen when he was so young. Callen was just a teenager when Hetty started his training, and he has long since suspected she knows things about his past that she continues to keep secret. The setup indicates that this might finally be the season this particular secret gets fleshed out. This would tie up Hetty's character arc, as this is really the last big secret she holds close.
So, does this all add up to Hetty being written off? Her increasing stretches of absence, interestingly beginning before the pandemic, combined with her continued nonappearance amid improving pandemic conditions, could hint at a permanent leave for Hunt. Viewers will have to wait for a potential conclusion though, as the recent surge in the pandemic has halted production of the show for a bit. After it resumes, however, perhaps the last of her mysteries will be revealed, and fans can have a bittersweet parting with Hetty, satisfied at her conclusion.