What You Likely Never Noticed About Gibbs' Costume On NCIS
CBS' long-running naval-themed c***e procedural "NCIS" is currently in airing its 19th season since it premiered in 2003.

During most of that time, the boss of the NCIS team is Leroy Jethro Gibbs, who was played by Mark Harmon until Harmon left the show in the fall of 2021.
Gibbs is an ex-United States Marine, and as a character he can be businesslike and standoffish. The investigators are a work family and he's the unofficial Dad, but he's previously compared himself to a high school principal. Still, Gibbs does have a dry sense of humor, and he's known for his zingers, often at the expense of his subordinates.
One thing that Gibbs is not? A fashionista. Nobody would ever accuse Gibbs of having a flashy sense of style. That was Abby's (Pauley Perrette) job, and once she left the show, now it's Kasie's (Diona Reasonover). Typically, Gibbs rocks an outfit somewhere hovering around business casual. The biggest drama with his looks is whether the decides to wear a tie.
However, just because Gibbs' wardrobe is lacking in the pizzaz department, that doesn't mean he jus throws on whatever he has lying around his closet. Here's the deeper meaning behind Gibbs' outfits.
Gibbs' wardrobe is a nod to his time in the US Marines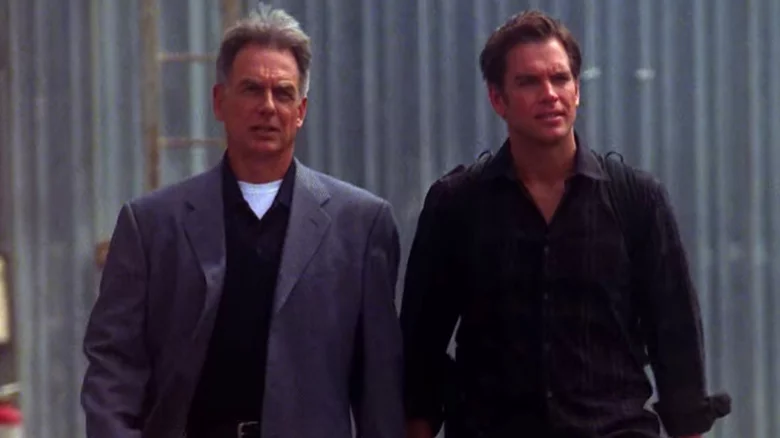 "NCIS'" costume designer Rachel Good revealed the meaning behind Gibbs' wardrobe (via CBS). Gibbs often wears a white crew-neck undershirt, along with either a polo shirt or a button-down, and occasionally a sport coat. Good explained that the white crew-neck is a nod to Gibbs' time in the US Marine Corps.
"Gibbs always wears a white T-shirt because he's an ex-Marine," Good said (via Showbiz Cheatsheet). "When the show started, we thought what better way to establish the fact he's an ex-Marine than by this white T-shirt? He always wears it. It's his signature." Marines can wear either a crew-neck or a v-neck in white, depending on the occasion (via The US Marines).
Gibbs' polo shirt and sport coat combo comes from a piece of in-show trivia. Good went on to explain that an older NCIS Special Agent, Riley McCallister, appeared on an early episode of the series wearing the same kind of outfit. According to Gibbs, before "NCIS" takes place a younger Gibbs would have noticed his more senior colleague's wardrobe and emulated it.
McCallister is the same retired NCIS special agent who orchestrates an unsuccessful assassination attempt against NCIS Director Vance (Rocky Carroll) in Season 8.