Marty's Biggest Mistake Ever On NCIS: Los Angeles
"NCIS: Los Angeles" is perhaps one of the most successful spinoffs within the NCIS universe.
With 13 seasons to its credit, the series has flourished on CBS thanks to its memorable characters, including everyone's favorite link to the LAPD, Marty Deeks (Eric Christian Olsen). Marty serves as the official liaison between the LAPD and NCIS for much of the series. After Season 12, the position becomes terminated, and he then joins the team as an official NCIS Investigator. It's honestly a promotion some fans couldn't wait to happen.
As it turns out, Marty is a character beloved by many, as his blond surfer good looks, impressive detective skills, and romance with Special Agent Kensi Blye (Daniela Ruah) make him an obvious fan favorite. Marty also has a bit of a mysterious past, which produces some intriguing pieces to his puzzling origin when explored through some episodes. However, during the Season 7 episode "Internal Affairs," Marty's past with a former LAPD partner puts the character in a different perspective. And by the episode's end, we witness the biggest mistake Marty has ever made in the series.
Marty kept a secret about k*-*-*ng his former partner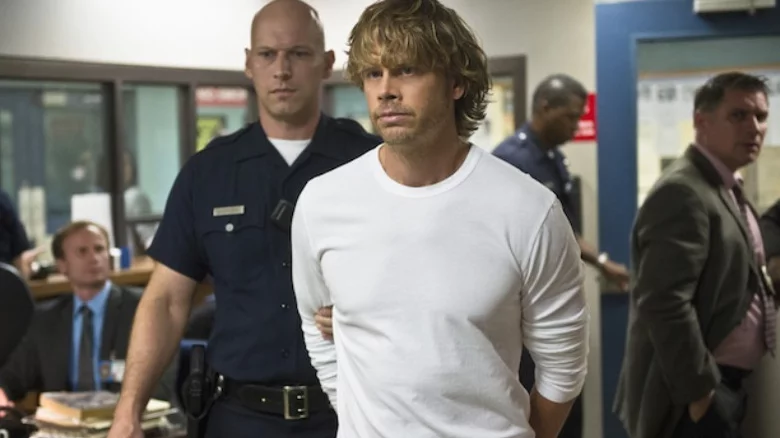 Marty Deeks being arrested
CBS
"Internal Affairs" focuses on the "NCIS: LA" team trying to clear Marty's name, as he has been accused of murdering his old LAPD partner, Francis Boyle. Marty is initially the prime suspect as he and Boyle never got along, primarily due to Boyle's shady dealings and violent nature. The investigation reveals that his old partner was indeed a dirty cop, and it all comes to a head, with Marty ultimately out of handcuffs. However, the final scene of the episode drops a massive bombshell. Marty confesses to operations manager Hetty Lange (Linda Hunt) that he did actually kill his former partner, but it was all to protect a sex worker Boyle abused.
Even if Marty's reason was to protect, and Boyle wasn't an ideal person, the fact that he kept this secret from his colleagues in NCIS is a colossal mistake on several levels. For one, the "NCIS" team essentially stuck their necks out for him to clear his name of a crime he did really commit. We've also got to consider that some already knew what he did. After he confesses to Hetty in the same episode, she responds that she's already known for quite some time. Also, his partner and romantic interest Kensi reveals she also knew he did it later in Season 7.
Marty's late confession of the murder also proves to become a lingering headache for him in later seasons, and it's because of Internal Affairs Investigator Ellen Whiting. He later confesses to her in Season 8's "Under Siege" after she's critically wounded. As a result, Whiting survives the ordeal and comes back in the Season 9 episode "Can I Get A Witness?" to blackmail him into working on an investigation for her. In retrospect, it probably would have been easier just to confess in the first place.
Read More: https://www.looper.com/15977/untold-truth-ncis/?utm_campaign=clip