NCIS: How Gibbs Gets His Boat Out Of The Basement
Over the years on NCIS, Gibbs has hand-carved several boats out of wood. The mystery of how he gets them out of his basement has finally been solved.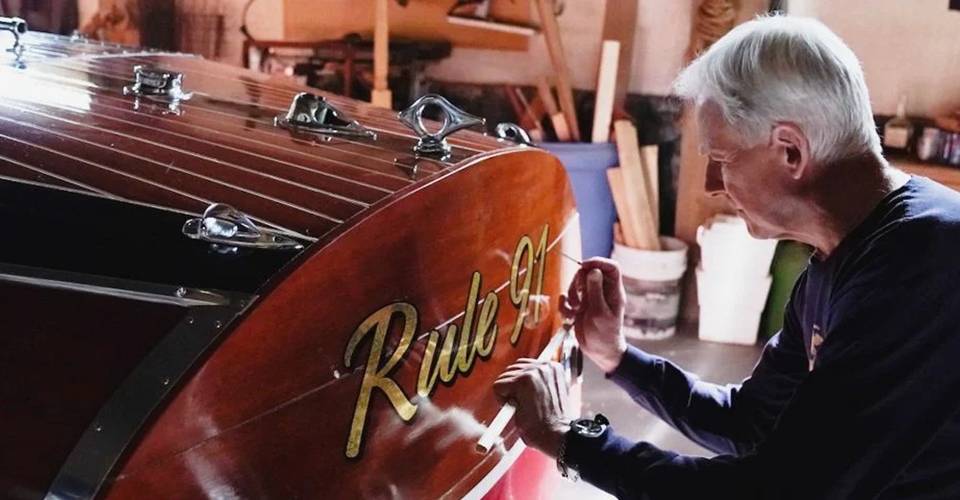 Gibbs building his boat, Rule 91, in his basement
It is a question that has been asked since NCIS began: how does Special Agent Gibbs get his boat out of the basement? NCIS, one of CBS's most successful shows, is currently in season 19, which has brought a big change in its cast. Gibbs, leader of the Naval C****l Investigative Service team, stepped down earlier in the season. Despite this, Mark Harmon's Leroy Jethro Gibbs will always be remembered as the show's main character thanks to the depth of his character.
Viewers know that Special Agent Gibbs is more than just an expert investigator. He is also a carpenter, building boats in his basement from scratch. Over the years, Gibbs, who was given his perfect NCIS legacy when he left, has hand-carved several boats out of wood. The NCIS chief starts out with the frame before building the body and finishing off the wood ready for the water. Then, before audiences know it, the boat disappears and Gibbs is seen starting a new frame. However, his hobby has created one of the show's longest-running mysteries.
How Gibbs gets his boats out of the basement has been a talking point for not only NCIS audiences, but also for other characters in the series. Nick Torres (Wilmer Valderrama) once told Gibbs that the mystery is so well-known that it has spread beyond their team and is even pondered by people outside the Navy Yard. Torres said, "The theories were nuts. Moveable walls, pulley systems… your house has a coal tunnel underneath." NCIS season 19 finally answered the question, however, in the episode "Great Wide Open." The FBI—led by Alden Parker, Gibbs' NCIS replacement—attempts to track Gibbs down at his home to arrest him. Gibbs is nowhere to be found—and in his basement, only a boat-shaped hole in the wall is left.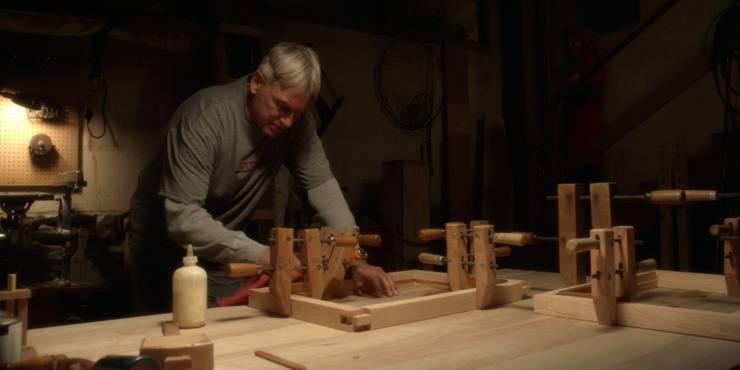 It appears that every time Gibbs builds a boat and completes it, he removes the bricks in the wall to allow its passage outside. Then he bricks the basement wall back up again. On the surface, it seems like a very laborious, intricate task that nobody would want to do—but this is Special Agent Gibbs. As a former Marine sniper, he thrives on patience and perfection, and quite likely to continue the mystery surrounding it. Jimmy Palmer actor and NCIS writer Brian Dietzen confirmed that the episode had indeed solved the series-long mystery. When a viewer asked whether audiences had just witnessed how Gibbs gets his boat out of the basement, Brian said: "Yes. Yes we did." (Via Twitter).
Now that the mystery of how Gibbs gets his boat out of the basement is solved, there is another burning question in everyone's minds: will Gibbs ever return to NCIS and build another boat? As it stands, NCIS actor Mark Harmon has stepped down as a series regular, so there is a chance that he could return. However, if Gibbs lives by his own rules, it might not happen. Rule 91, the name of the boat he almost d****d on, is clear: "When you decide to walk away, never look back."