Meet 'NCIS's' Chris O'Donnell's 4 Co-star Kids & Namesake Eldest Son Who Is a Spitting Image of Him
Chris O' Donnell grew up in a big family and wanted to have a big family. His dream came true when he met and married. Here are details about his children and his relationship with them.
Actor Chris O' Donnell began his acting career as a teenager, and his breakout role was in "Batman Forever." He married his wife, Caroline Fentress, in 1997. He met Caroline through his older brother Andrew.
He knew she was special the moment they met. They began dating three years later and wed after three years of dating.
Chris credited his family values to his most prominent role model, his father. Chris described him as a self-made man who always put his family first.
CHRIS'S DREAM TO BECOME A FATHER
Chris handled his fame in a somewhat unique way. "Running around L.A. clubs just wasn't my scene," he said. So when he married Caroline, he was sure about committing and starting a family.
As a father, he worked to put his family first. Chris explained that when he got to the fourth child, he thought, "This is insane. I've had enough."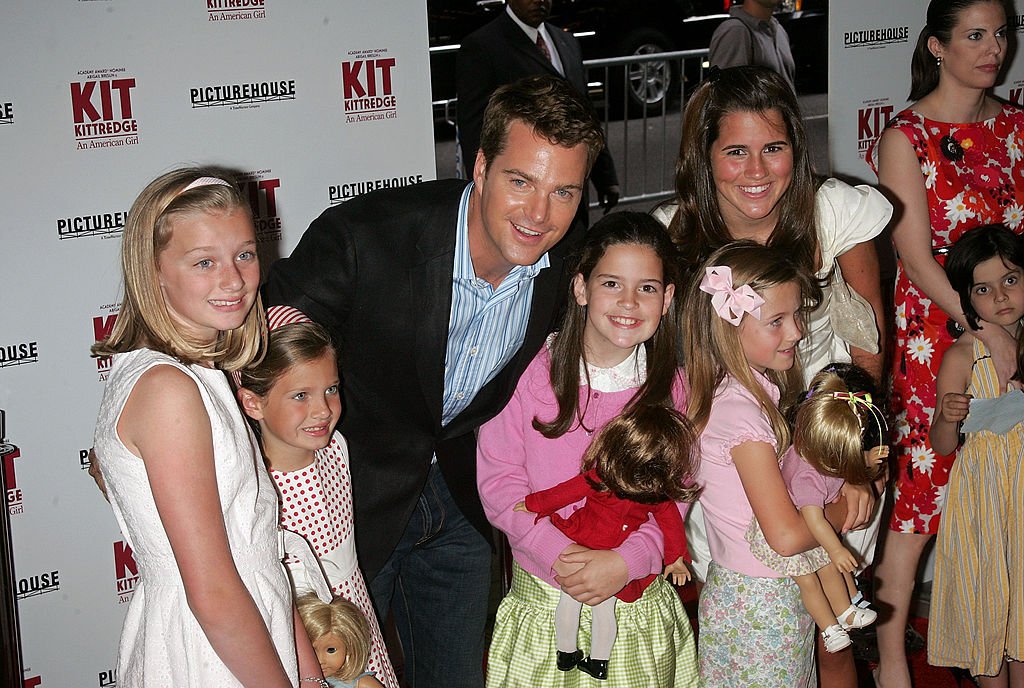 Actor Chris O'Donnell and family attend the Kit Kittredge: An American Girl premiere on June 19, 2008. | Source: Getty Images
But he continued and realized that having five children with Caroline was no more complicated than having three.
"The older you get…it's not that big of a deal when something happens."
He also revealed that his daughter inspired his competition show, "Come Dance With Me." He created the show alongside fellow actor LL Cool J.
He said, "Watching my daughter teach my sons how to do these TikTok dances, things just kind of lined up to where the moment was right for something like this."
KEEPING THE ACTING TALENT IN THE FAMILY
Chris had been a part of the hit c***e series "NCIS: Los Angeles" since it premiered in 2009. He played the role of Callen, one of the top agents with a troubled past. But he wasn't the only one in his family to play a role in the series.
Four out of his five children formed part of the show. Lilly featured as a character called Amy, who appeared in scenes as a younger version of Callen's younger sister.
Charlie appeared in the role of  Michael Donnelly. Finley made his debut on the show in 2011. Maeve was the most recent child to appear alongside Chris's wife in 2015.
Chris explained how Maeve prepared for her big debut. She had one little line to say in the show and often rehearsed it at home.
He added, "She was a little nervous when she got there, but then she arrived at my trailer, and they put a big star with her name on the board."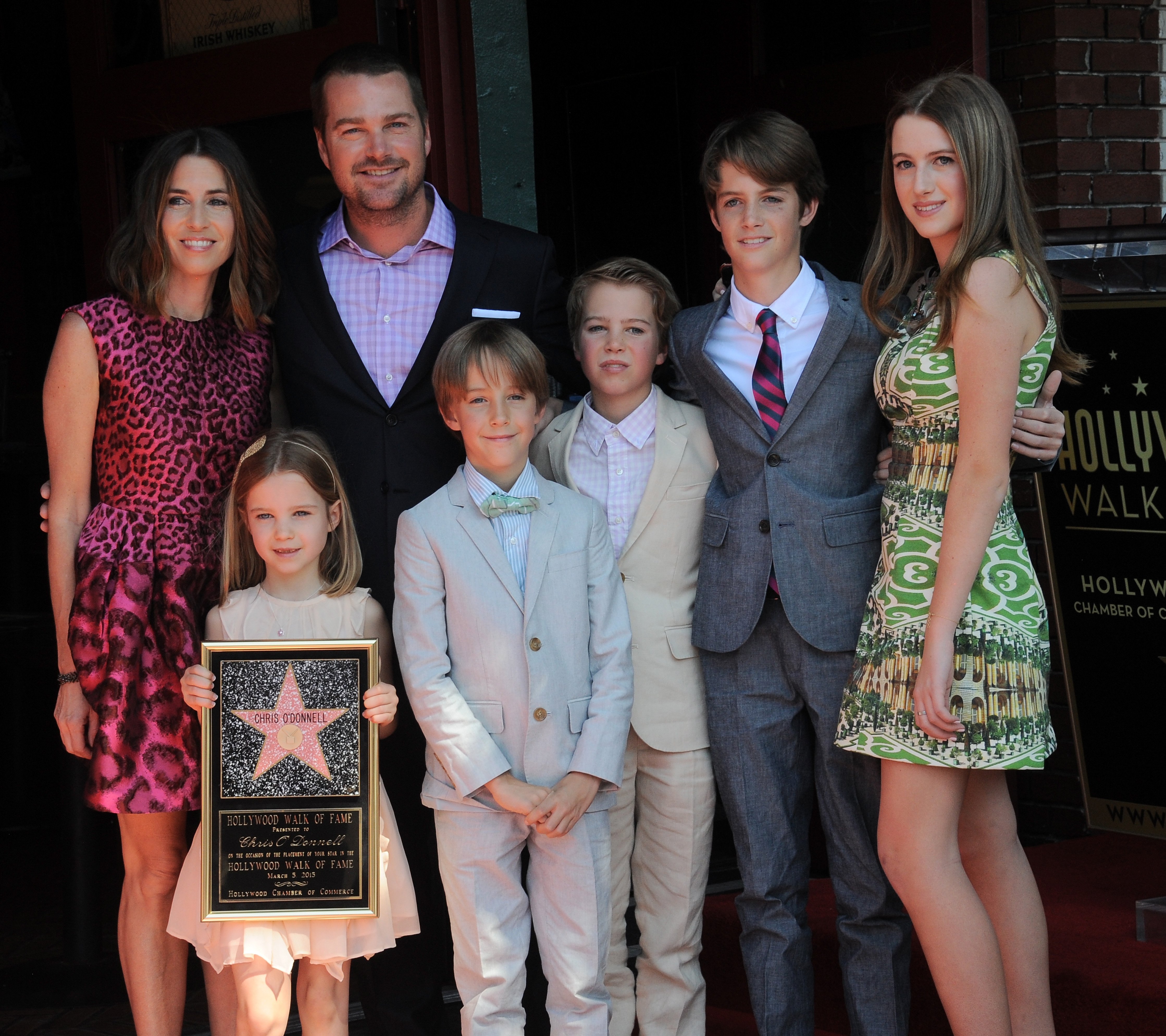 Chris O'Donnell stands with his family while being honored on the Hollywood Walk Of Fame on March 5, 2015 in Hollywood, California. | Source: Getty Images
Chris also said that he wasn't sure whether his children would follow in his Hollywood footsteps, and he would be happy if they did.
MORE ABOUT THE O'DONNELL CHILDREN
Before Chris had his five children, he and his wife knew they wanted to have several children. They intended not to have more than four, but they decided they were done after the fifth child.
During the birth of their first child, Lily Anne, Chris took a helicopter from the "Vertical Limit" set to be there for his daughter's birth. But when he got to the birthing room, he started feeling queasy.
"I'm not really good with hospitals. Blood doesn't make me very comfortable," he said. Even though Chris had never fainted before, he collapsed as soon as he saw Lily's forehead! He said:
"The next thing I knew, they got me up and put scissors in my hand so I could cut the umbilical cord."
Lily was born in 1999 and claimed that she wanted to be an actress, and although Chris was happy with her dreams, he had a lesson to tell her: "it's a different game when the camera shines."
Christopher O' Donnell is the eldest son. He was born in 2000 and was named after his father. He is rumored to soon be in "NCIS: Los Angeles" like his other siblings.
Christopher looks almost exactly like his dad, so much so that several Instagram users point the resemblance out. One user commented, "he looks just like you 25 years ago on "Scent of a Woman!"
Another user @behindthedrapes said, "this has to be an old picture of you." One more user commented, "Wow, he looks exactly like you! Is that Chip?"
Another said that Christopher was the spitting image of his dad. and @masgoing said, "Holy cow, he looks exactly like you!"
The third sibling, Finley, was born in 2006. Soon after playing the younger version of his father's character, he also appeared in "Tin Soldiers" in 2011.
The fourth of the O'Donnell children is Maeve. Chris recalled how she stole the show while shooting her appearance in the series.
"She warmed up when she got in the makeup trailer, and they started to let her play with the makeup brushes and do her hair," he said.
The youngest, Charles McHugh O'Donnell, was also featured in "NCIS: Los Angeles" as a younger version of his father's character.
HOW THE O'DONNELLS PARENT DURING QUARANTINE
Chris said that his children were quite independent during quarantine despite adapting to virtual school. But he kept an eye on his credit card bill because of all the charges from the kids. The children enjoyed takeouts and scooter rentals.
He added that his family could have more dinners together during quarantine. But he also said that it was challenging for the children to remain focused during online school.
He said that he watched his children grow up throughout his time on "NCIS: Los Angeles." "My first child was in diapers when I first started, and now they're all grown up," he said.
Chris continues to star on "NCIS: Los Angeles" and his competition show, "Come Dance With Me," premiered in 2022.