4 Things You Only Notice Once You Start Rewatching NCIS
NCIS is truly a marvel of modern television. It's one of the most-watched shows in history, and that's largely contributed by the fact that it has been going strong for about two decades of being on air with 400 episodes. Although the show doesn't follow a set case or storyline, and the methods are formulaic, it still has some slight nuances that are common throughout the episodes. These actions, scenes, or settings bring a sense of familiarity to the show, demonstrating that even though there's a new story every week, it's still the same characters that we love.
Now, sometimes these slight details have worked well for 'NCIS,' and sometimes they haven't. Whatever it may be, it seems like you notice these things only on your second watch. If you caught these details on your first watch and deduced the pattern, you are easily better than the rest 90% of viewers. Major spoilers ahead, so proceed with caution.
1. Nearly every episode of NCIS opens up with a black and white flash-forward showcasing the end of that segment, ever since the fourth episode of season 2 had one. These short clips are widely referred to as "phoofs" because of the sound played when they appear. Additionally, each segment of a single episode has its own "phoof," typically allowing for up to five "phoofs" per episode. And, if an episode requires a "Previously On…" meaning it's in the continuation of the previous segment, then its final shot serves as the first "phoof."
Some find it annoying
2. Four actresses have played Gibb's daughter in the flashbacks. Abby Sciuto's discovery of this tidbit in Season 7 led Gibbs and his team to relive this terrible moment in his life. This led to a multitude of flashbacks that contradicted some of the earlier castings of Kelly, Gibb's daughter. In Seasons 3 and 4, Mary Mouser first played Kelly. Then, Brenna Radding played her in Season 5 while Sam Schuder took over the role in Season 9. Finally, in Season 13, Mila Brener played the role, which was eventually Kelly's final appearance on the show.
Mila Brener as final Kelly
3. Gibb's special meetings in the elevator. One of the recurring events on "NCIS" has been Gibbs's unique method of conducting his version of a private meeting. In times of crisis or when he feels the need for consultation of a team member, Gibbs is perfectly comfortable getting on the elevator and pressing the emergency switch. He makes it his conference room. While the viewers have seen it on multiple other shows, nowhere has it been more prominent than on "NCIS" with Gibbs routinely cornering everyone, no matter the rank, in the elevator for a bit of tête-à-tête.
You can't escape Gibbs
4. The decade-old "Most Wanted" list. One of the central features of the "NCIS" squad room is the wall of "Most Wanted" pictures. These posters have been a staple since the pilot episode and, after so many years, one has to wonder whether or not these characters are good at what they do. After Osama Bin Laden was k*-*-*-*d by the Seal Team Six in 2011, they added a visible red cross on his picture on the wall. Ten years later, his picture is still on the wall with a cross. Can anyone explain the utility of retaining a ten-year-old "Wanted" picture of a d*-*d man?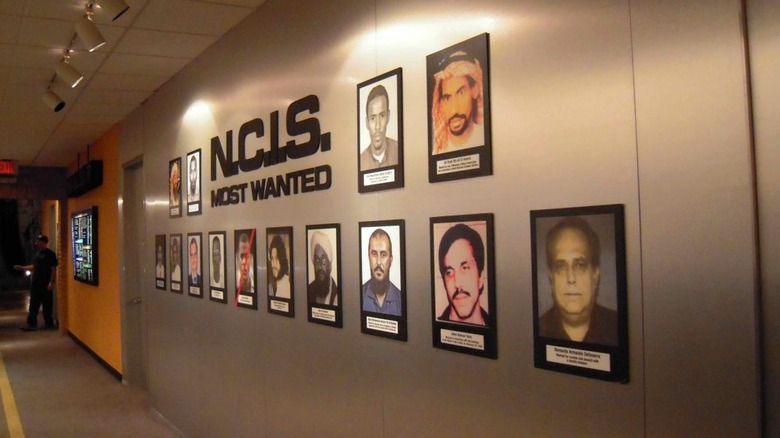 It doesn't make sense
Sometimes these things have been felt a little out of place for a procedural series like this. But whatever its flaws may be, the show is still going strong, and people are crazy about