The Shady Side Of Tom Selleck
Tom Selleck was one of the biggest TV hunks of the '80s thanks to his famous mustache and his classic role in "Magnum P.I.," but after eight successful seasons on the show, the actor decided to take a break from his career right at its very height — a move that left many scratching their heads. Selleck brushed aside the fact that he was one of Hollywood's hottest names so that he could better focus on his marriage to Jillie Mack, and it sure worked because they're together to this day. Besides, he didn't completely leave acting behind. A quick glance at his IMDb page reveals that Selleck never truly stopped working, picking up steady gigs all throughout the '90s, including an unforgettable run on "Friends," and landing his own Hallmark TV movie franchise in the 2000s. To date, he's played police chief Jesse Stone in 10 films and counting and, in 2010, he found his next big hit on the small screen in the form of "Blue Bloods." The series is still going strong after 12 seasons and Selleck's got the net worth to prove it.
Even more impressive is the fact that, despite his massive success and his status as a heartthrob, Selleck has managed to stay out of the tabloids for much of his career. There have been a few shady moments he's had to contend with, however, and we're breaking them all down below
The end of Tom Selleck's first marriage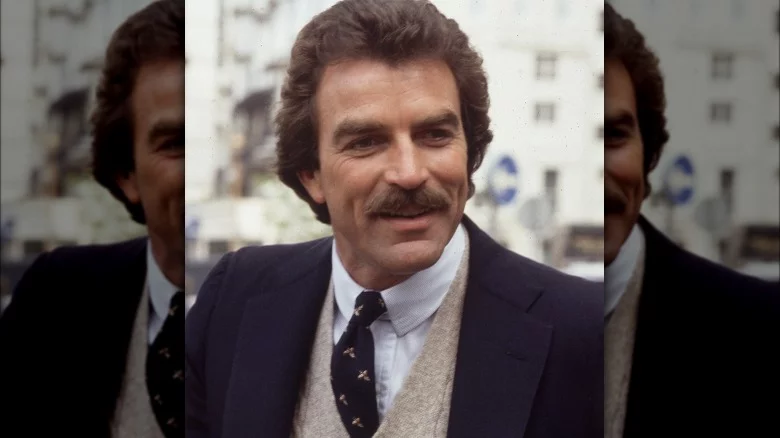 Before Tom Selleck found lasting love with Jillie Joan Mack (the couple wed in 1987, per People, and are still together) the "Magnum P.I." star was married to American model Jacqueline Ray. As Country Living reported, they were together for a decade and Selleck even adopted Ray's son, but just as he was making it big in Hollywood, the pair divorced in 1982. While Selleck hasn't spoken much about the split, Radar reported in 2016 that he was spotted "wiping tears from his eyes" during a screening of a made-for-Hallmark "Jesse Stone" movie. According to the outlet, he got emotional while watching his character reminisce about getting divorced. "The bust-up was the worst thing that ever happened to me," he said. "I thought I'd be married for always."
There's been some speculation about what caused the end of their marriage, including an unverified rumor that he brought heartbreak upon himself while shooting "Magnum P.I." in Hawaii, as he reportedly "fell in love with the island and with the island girls." A source alleged to Radar this led to Ray filing for divorce because "she couldn't stand the pain of seeing Tom have a good time with other women." They added, "He was playing the field — and enjoying it." Another insider claimed Ray found him "fickle" because she "never suspected Tom would dump her after she had stood behind him during all the lean years when he was a struggling actor looking for a major role."
Did anything happen with Sophia Loren?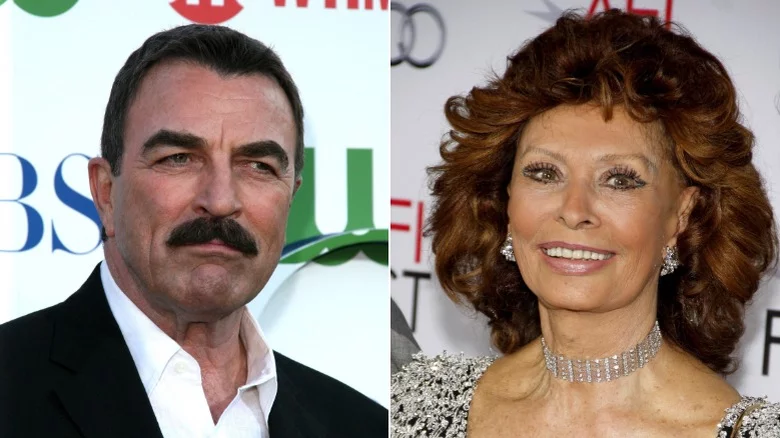 Tom Selleck wasn't single for long when he traveled to London to shoot "Lassiter" in 1983 and saw British stage actor Jillie Joan Mack performing in "Cats." According to People, he was so smitten that he kept going back to the theater before finally taking his future bride to dinner. Selleck's "Lassiter" co-star Jane Seymour recalled how "he kept telling me how great 'Cats' was. I thought it was good, but I couldn't see going back a dozen times," she quipped. The pair wed in 1987 and Selleck quit "Magnum P.I." the following year to focus on his wife and their daughter, Hannah. They moved onto a secluded, sprawling ranch in Ventura, California and, as he told People, leaving the series at the height of its success wasn't difficult because his focus was "always" family. "I wanted a three-dimensional life because I didn't have one," he explained.
Despite a picture-perfect relationship, Selleck did face some cheating rumors in the late '80s as tabloids wondered if he was having an affair with his bombshell next-door neighbor, Sophia Loren. Selleck set the record straight, telling The Telegraph (via Hello!) he had Mack's permission to be unfaithful… under specific circumstances. "It had to happen just like this," he said. "If I was on my way to Home Depot and she was out on the driveway in her bathrobe and she said exactly these words: 'Thomaso, would you like a cappuccino?' I could go in. But it never happened."
Tom Selleck hates the fruit he farms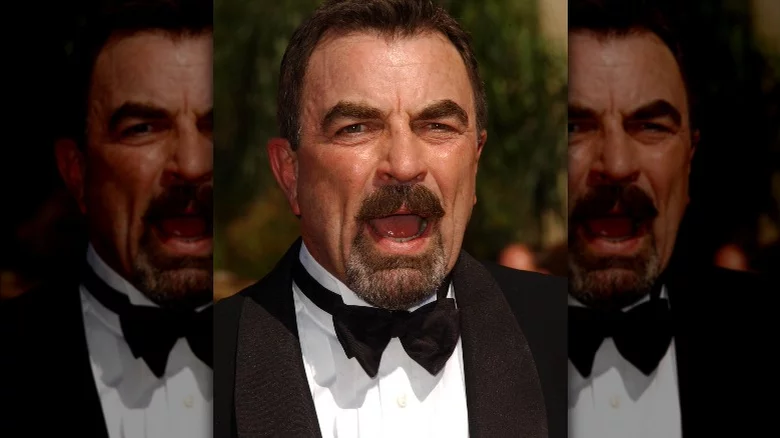 Over the years, Tom Selleck has repeatedly gushed about his ranch life and even called his 65-acre property in Ventura County, California "a real blessing," per People. The actor purchased the land, complete with a 1926 ranch house and a 20-acre avocado farm, in 1988 at the height of his "Magnum P.I." days. In fact, he quit the show so he could better focus on his family and his property, as he told People in 2020. "My relationships and my ranch keep me sane," he shared. "I do grunt work and I make the rounds. I like watching things grow. It's a retreat." He expressed a similar sentiment to Yahoo! Entertainment in 2013 when he called ranch life a "terrific counterpoint" to his Hollywood career. "You know, my life right now is I commute to New York and work for about half the month on 'Blue Bloods,' and then I come home to California […] I get to be with my family, and I have a very, very different life," he said, adding that after the interview he was "planting an oak tree, actually."
Despite all the praise, there is one thing Selleck dislikes about his farm and it might surprise you. While speaking with People in 2012, he conceded it's "hard to make a living, let alone a profit," but most shocking of all were his true feelings towards avocados. "I don't eat 'em," he proclaimed, reportedly with a grimace, adding, "Honestly, they make me gag."
Tom Selleck's water lawsuit
Read More: https://www.nickiswift.com/731904/the-shady-side-of-tom-selleck/?utm_campaign=clip