You'd think if the Devil got bored, he'd just engage in a bit of an apocalypse or something to liven things up, but in the TV series Lucifer he's decided to leave Hell behind and vacation in Los Angeles. There he opens a piano bar and, through the murder of a human friend, becomes intrigued by Detective Chloe Decker. He grows amused by the notion of using his "talents" to help her solve crimes while warding off the efforts of the angel Amenadiel to get him to return to his proper place as the ruler of the underworld. Torn between her duty as Lucifer's protector and the desire to help Amenadiel accomplish his goals is Maze, a demon in human form.
Although there is a procedural element to the show, executive producer/showrunner Joe Henderson feels that it actually represents "an arc with a procedural twist," elaborating that Lucifer is a character-driven show with a procedural backbone, being more of a mystery of the week rather than a case of the week. "Some situations," he says, "come from Lucifer's end. Some from Chloe's. The fun of it is that what we'll work backward from is what is the situation that will illustrate the differences between these two characters in interesting ways? The fact that Lucifer has this world that he exists in of favors and power, and the time he spends in LA, is something we really want to mine."
The Source Material
The character of Lucifer Morningstar was, in 1989, created by writer Neil Gaiman as a supporting character of the critically acclaimed DC/Vertigo comic book Sandman, and was largely influenced by the depiction of the character in John Milton's Paradise Lost. In 2000, Lucifer was spun-off into its own self-titled comic written by Mike Carey, which lasted 75 issues and a one-shot that all concluded in 2006.
"I guess I was attracted to him in the first place, because he represents an extreme – and an extreme that's a long way away from my own personality," Carey explained in 2002. "He's the ultimate solipsist – the guy who'd burn the world down to light his cigarette. He's not cruel, particularly – although he's capable of cruelty – he's just so focused on his own goals and his own needs that nobody else exists for him. It's fascinating to see how that plays out, and how he affects the people who cross his path. But increasingly I've been seeing him as a tragic figure. What he wants is freedom, and he can never have it – not in the absolute sense that he wants it. There's a divine plan of which he's a part, and he can't get off that particular hook no matter what he does. It lends a kind of poignancy to the storylines to know that he's trying to do something that's inherently impossible."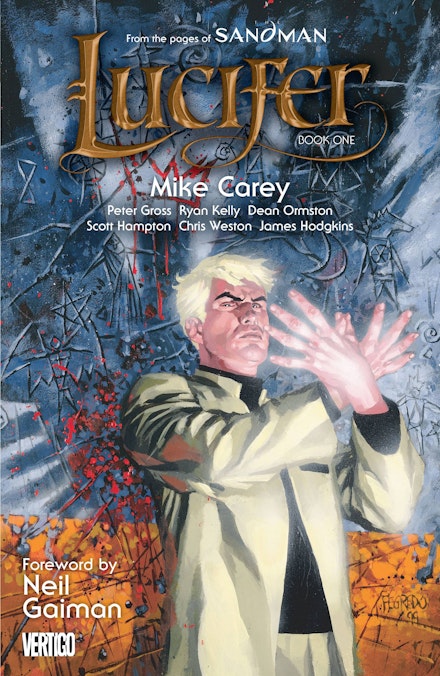 The Challenge Of Adaptation
Henderson admits that transitioning the comic book version of the Lucifer character to television is a "tough translation to do." The comic, he says, is absolutely amazing, but represents grand worlds and huge ideas. "What we're trying to do," he explains, "is take the idea behind the idea – the soul of the idea – and ground it in our world. We have a lot of the comic and very little of it, because we don't have a lot of hugely supernatural elements in it. What we have are grounded aspects of them. The spirit of them. What we get to do is play with a guy trying to explore the idea of freedom. Freedom from your father. The freedom to screw up. The freedom to hook up with anyone you want. The freedom to live. That great idea which works so well in the books is something we love, but we're going to do it our way."
Executive producer Lldy Modrovich explains that in talking to DC, the feeling is that the show exists somewhere between the Sandman and Lucifer comics. "At the end of Sandman," she details, "Lucifer leaves Hell, cuts off his wings and goes and opens a piano bar, Lux, in Los Angeles. Then the Lux actually burns down and all of this other stuff happens. The show exists before that."
Defining Lucifer
Serving as director and producer of Lucifer is Len Wiseman, director of Underworld and Die Hard 4.0 and co-creator of the Sleepy Hollow TV series, who was drawn to the material because of its particular take on the Devil which was unlike any he'd ever seen.
"It was the first time I had seen the Devil not trying to hide," he says. "That's the simplest way to put it. He's just stating it as it is. That's where the fun and weirdness come from. I hope the audience is relating to what I saw as ultimately a father and son story, and that it really is, if you take away the Devil aspect, the God, the plan, the predestination…everything… it's ultimately a character who's rebelling and saying, 'Father doesn't love me, and that really pisses me off. I'm going to do everything I can to upset him.' It's the father/son therapy session that's taking place over the series."
For Modrovich, Lucifer is doing away with the more popular tropes of this particular mythology, among them fire, brimstone demons and monsters. Instead, it's focus is on examining Lucifer as a human. "As the biggest, baddest human of all time," she laughs, "trying to figure out if he's got some good in him."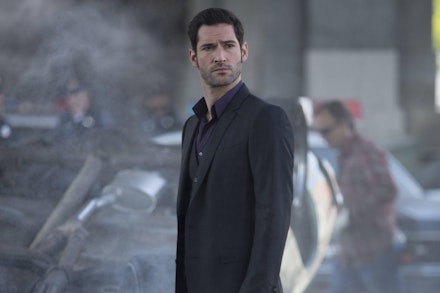 Tom Ellis is Lucifer Morningstar
British actor Tom Ellis is known for his roles as Dr. Oliver Cousins in EastEnders, Detective Sergeant Sam Speed in The Catherine Tate Show (a parody of Life On Mars), Pulling, Miranda and the title character of Rush. In describing his role of Lucifer Morningstar, he offers, "He's a guy who's used to thinking that he knows everything, and everything is doable, and everything is possible. I think what he hasn't counted on is the kind of osmosis of becoming human about stuff, and developing things like feelings and emotions. We find the guy that everyone thinks they know, who's on the path to redemption that he thought he never could have. That's who he is to me. Normally his response to things is, 'I need to punish someone,' which kind of whets his appetite for solving crimes. His sense of fun is the thing that drives him forward in life."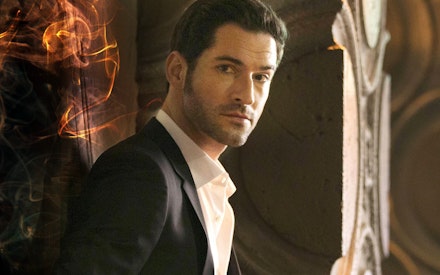 Lesley-Ann Brandt is Maze
The South African-born actress has a background in a number of New Zealand-produced television series, but also portrayed Naevia, a slave girl in Spartacus: Blood And Sand. Maze, she says, is a demon that has followed her boss – who she considers her best friend – to Earth after he's decided to leave Hell in the hopes that they'll be there for a little while and then come back. It quickly becomes obvious, however, that that's not the case. More than anything, she wants to go back to Hell and bring Lucifer with her.
"I think when she came to Earth, she thought, 'This will be exciting; I'll get to have a little bit of Hell on Earth and play with these little human beings,'" she reflects. "Instead, she's working behind a bar and having as much fun as she can, but she's bored now. Also, watching her boss become less and less like who he is and being affected by humanity is a problem for her. Maze wants to get back to doing what she does best: torturing souls, plain and simple."
Certainly laudable to have goals.
D.B. Woodside Is Amenadiel
A staple of American television, the actor has had recurring or co-starring roles in such shows as 24 (as President Wayne Palmer), Hellcats, Parenthood, Single Ladies and Suits. As Amenadiel – who he describes as a very intense "warrior angel" – he serves as Lucifer's main antagonist. "He feels he has one task to do," says Woodside, that task being to get the Devil to return to Hell, "and Lucifer is making that extremely difficult. I don't think he likes being rejected or turned down. He believes that this is something extremely dire, and ultimately he's right. How they go about solving that problem is what's exciting about watching it."
In their true world, the two characters are brothers, so he feels that there has to be a degree of love there, but the mission from God he's literally on supersedes all of that as Lucifer's presence on Earth has thrown off the natural balance of the universe.
"Lucifer has been fully set up in Los Angeles for the past five years," he details. "Amenadiel is still going back and forth. Why his powers are greater than Lucifer's is that he has a direct line to God, if you will. Lucifer's somewhat cut off. I think the only thing he can do is go back to Hell and do what he was sent there to do. The longer he stays in Los Angeles, the weaker his extraordinary powers become."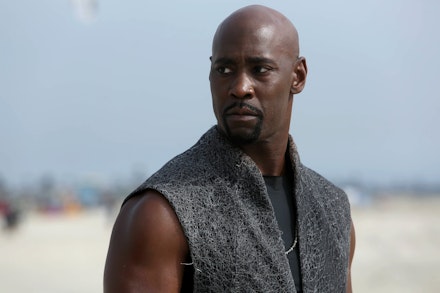 Lauren German Is Detective Chloe Decker
She's the one woman that Lucifer can't seem to woo with his unworldy charms, which gives the detective a strength that he isn't used to dealing with. That intrigue works fine for Lauren German, whose early film roles were in A Walk To Remember, the 2003 version of The Texas Chainsaw Massacre and Hostel, before moving into television with recurring role in Hawaii Five-0 and co-starring in Chicago Fire.
Part of Decker's background in Lucifer is that she originally wanted to be an actress and appeared nude in a film that seemingly everyone recognizes her from (think of Phoebe Cates in Fast Times At Ridgemont High), but ultimately decided to go into police work.
"She wants to be taken seriously and it's a little harder for women as it is," muses German, "but then add on top of that you've been naked in a movie and everyone knows it. So I actually really like playing that storyline. We've all done something that's, like, 'Oh, come on!' It's relatable."
At the start, Decker finds Lucifer to be "creepy", but as time goes on she starts to recognize that there's something more to him: "She quickly realizes he's perceptive, he's really sharp and really bright. He's annoying as hell, but there's something to that. By the end of the pilot I realize he clearly has some skill; some psychic skill and some omniscient thing going on."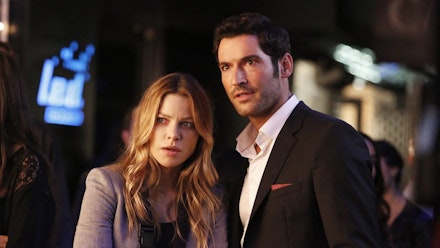 Controversy
Back in May of last year, when Lucifer was announced as a series, the American Family Association's website, One Million Moms, initiated a petition to prevent the show from airing, believing that it would "glorify Satan as a caring, likable person in human flesh." One person who didn't seem to take the petition too seriously was Neil Gaiman, who commented on his Tumblr page, "It seems like only yesterday (but it was 1991) that the 'Concerned Mothers Of America' announced that they were boycotting The Sandman because it contained lesbian, gay, bi-sexual and trans characters…. They told us they were organizing a boycott of The Sandman, which they would only stop if we wrote to the American Family Association and promised to reform. I wonder if they noticed it didn't work last time, either."
German's feeling is that the show honors everyone's beliefs, which is difficult to do. If you are religious, she suggests, give the show a shot anyway because it's not what people would expect. "It's not glorifying the Devil," she says. "It's more of a human story. How within us we struggle with right and wrong; what we've done in the past, how we want to be and how we struggle with good and bad. I would just say keep an open mind."
For his part, Henderson feels that Lucifer is a redemption story and an exploration of people who on the surface aren't who they portray themselves as. Fascinating to him is the fact that Lucifer has always been called the king of liars, but in both the show and the comic he doesn't lie. "He's a guy who tells the truth," he says. "Lies diminish us and Lucifer would never diminish himself, so he tells the truth. He's the ultimate truth-teller and he attacks hypocrisy. That's the evil he especially goes after."
The Episodes – Beware of Spoilers
Episode 1, "Pilot": Lucifer Morningstar, the retired angel of Hell, owns a high end night club in Los Angeles. When the pop star he tries to help is murdered in front of him by a drug dealer, he uses his powers of persuasion to assist Detective Decker in apprehending the true culprit behind the murder. All the while, he must deal with his brother angel who is putting pressure on him from their "father" to return to running Hell.
Episode 2, "Lucifer, Stay. Good Devil": Lucifer and Detective Decker work together again to solve a homicide, this time that of a movie star's son who was killed by an overeager paparazzo who frequently created volatile situations in order to get the "first scoop" on the story.
Episode 3, "The Would-Be Prince of Darkness": When a football star whom Lucifer convinced to lose his virginity is arrested for the murder of the girl with whom he slept, Lucifer works to prove his innocence.
Episode 4, "Manly Whatnots": Chloe and Lucifer investigate a missing persons case involving a girl who was involved with a pick-up artist. The investigation is complicated by Lucifer's repeated attempts to seduce Chloe in an effort to better understand her. Meanwhile, Amenadiel confronts a reluctant Mazikeen about Lucifer. At Lucifer's encouragement, Chloe shoots him in the leg. To Lucifer's bewilderment, he feels pain and bleeds.
Episode 5, "Sweet Kicks": Lucifer assists Chloe in a case involving an artist/high-end shoe designer who was once in a street gang. In doing so, Lucifer knowingly puts himself in danger, finding it exciting to test his mortality. He and Chloe are ultimately rescued from a hostile situation by Mazikeen. Meanwhile, Amenadiel surprises Dr. Martin by showing up at her office after hours, stating he is a fellow psychotherapist who has moved into the office next door. The two agree to have drinks and openly discuss patients.
Episode 6, "Favorite Son": When a warehouse is robbed and the security guard murdered; it turns out that the stolen container belongs to Lucifer. He and Decker then work to find the culprit, which Lucifer sees as protecting his status in the city. Meanwhile, Lucifer continues to struggle with his identity, and Amenadiel continues to try to use Dr. Martin to get to Lucifer. It is revealed that the stolen shipment contained Lucifer's wings.
**
**
Episode 7, "Wingman": Lucifer continues the search for his wings, and turns to Amenadiel for help. Meanwhile, Chloe asks Dan for help in investigating the Palmetto case in the hopes that she can find something to confirm her accusation against the cop who is about to die. Lucifer regains his wings, but burns them to anger Amenadiel and halt his own return to his former throne as the King Of Hell.
Episode 8, "Et Tu Doctor?": The duo investigate the murder of a controversial therapist that advocates adultery as a means to save relationships. Meanwhile, Lucifer shoehorns his own therapist, Dr. Linda Martin into the case in an attempt to solve Decker's issue with Dan.
Episode 9, "A Priest Walks Into A Bar": Lucifer and Decker investigate when a priest asks for Lucifer's help in stopping a drug ring he believes is being headed by a counsellor at the local youth centre. However, a problem arises when the youth counsellor is found dead, and suspicion quickly falls on the priest.
Lucifer airs on Monday nights in the US and Amazon Prime in the UK