Lucifer's Moving Father-Son Duet Was Not The Producers' First Choice
"Lucifer" establishes fairly early on that it's not your average fantasy drama. Apart from the obvious fact that the protagonist of the show is the biblical Devil, Lucifer Morningstar (Tom Ellis), the show is happy to mix and match genres. "Lucifer" often jumps between lighthearted comedy, gripping police procedural, and horror-tinted drama within the span of minutes. Oh, and then there are the musical numbers. "Lucifer" loves a good musical number, and makes great use of Ellis' magnificent pipes by strategically deploying musical episodes that tackle classics from Queen's "Another One Bites the Dust to Chris Isaak's "Wicked Game."  
Depending on their outlook on such matters, viewers might find these song-and-dance numbers anything from cringeworthy to wildly entertaining. However, they're invariably pretty surreal, and none more so than the one in Season 5 Episode 10. In this particular episode, Lucifer and his all-powerful Father (Dennis Haysbert) join forces for a touching rendition of "I Dreamed A Dream" from "Les Miserables." As memorable as the scene is, however, this song wasn't the one the show was originally going for. The producers' original plan was to use a very different-sounding song by Cat Stevens, "Father and Son." Here's what led to the change of plans. 
Rights issues and Tom Ellis' guitar practice joined forces to create a winning duet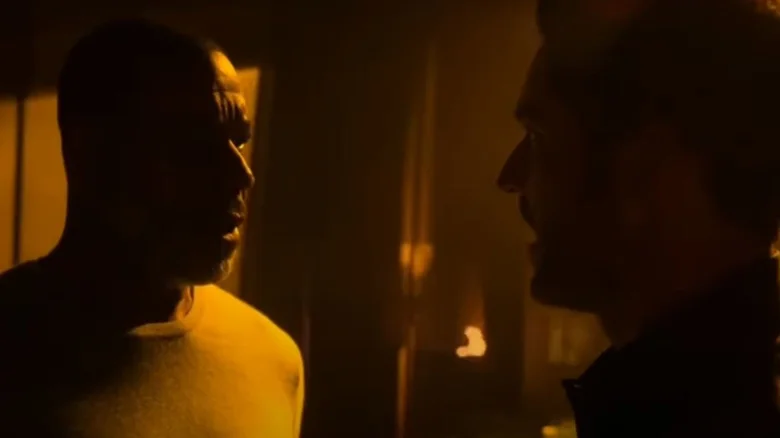 In an interview with The Wrap, showrunners Joe Henderson and Ildy Modrovich revealed that they simply couldn't get the permission to use "Father and Son," which left them looking for replacement options. Fortunately, star Tom Ellis did his own singing on "Lucifer," and had recently tinkered with "I Dreamed A Dream." After he shared his take on the song with Modrovich, the performance lingered with the producer, and things clicked.
"I remember Tom called me up and played it; he'd just learned it on the guitar," Modrovich said. "I kept thinking, oh my God, there are so many fans who would freak out if Tom just called them and got on the guitar for them. I cried the first time I heard him do it. I was like, this is the song. It just became the one I wanted more than anything."
Ellis himself certainly approved of the replacement, and not just because he'd accidentally come up with it himself. In fact, he found working on the song with Haysbert so moving that they had a hard time keeping their eyes dry during rehearsals. "Both of us were just a mess," the star revealed. "We were both just sobbing. And both as dads in real life, and with father-son relationships, there was so much that we could draw on from our own experiences."