Inside NCIS: Hawai'i star Vanessa Lachey's heartbreaking childhood
Vanessa Lachey is perhaps best known for playing Jane Tennant in the hit CBS spin-off drama NCIS: Hawai'i, as well as for hosting Netflix's reality show, Love Is Blind, alongside her husband Nick Lachey.
While she often shares glimpses of her home life with Nick and their three children, Phoenix, Brooklyn and Camden, how much do you know about her past? The star has previously opened up about a heartbreaking time in her childhood. Read all about it here…
WATCH: Take a look inside Vanessa and Nick Lachey's luxury kitchen in their Hawaii home
https://www.hellomagazine.com/film/20230322167415/ncis-hawaii-vanessa-lachey-heartbreaking-childhood-story/
Following the separation of her parents when she was just three, Vanessa left America for Turkey with her mom, Helen Bondoc, and older brother before relocating back to the US when the Gulf War began in 1990.
When Vanessa was nine, her mother dropped her and her brother off at their father, Vincent Minnillo's home in LA, telling their stepmom that she would be back.
However, the now-42-year-old would only see her mother twice over the next decade
"I didn't really understand when she didn't come for one weekend, and then another weekend," the actress told People.


Vanessa and Nick with their three children, Phoenix, Brooklyn and Camden
"Then you just hope she's going to come back and always wonder why she didn't. It took me [time] to understand that it wasn't [my fault]."
The Love Is Blind host went on to reveal that it wasn't until after she fell pregnant with her first child that she realized how deeply her childhood had affected her.
"What I realized is you don't have to fall into those [same] patterns, and I didn't," she said.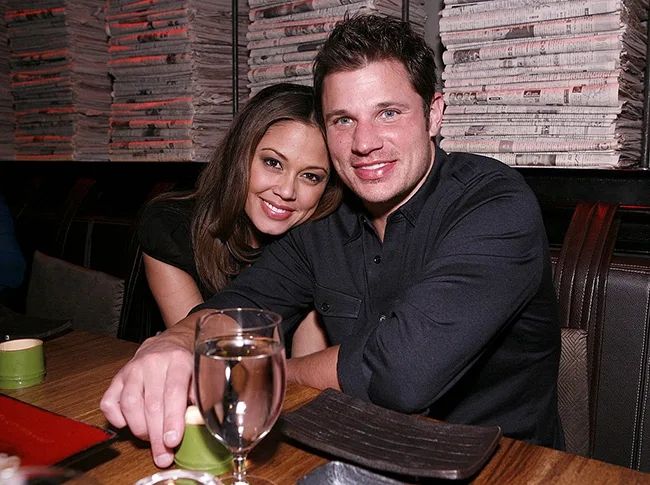 Vanessa and Nick tied the knot in 2011
Her husband Nick added: "One thing I've learned about my wife is that she's a fighter and so resilient. If nothing else, [her experience] gave her a real appreciation for how important her kids are to her."
At the time, Vanessa revealed that she had been estranged from her mom for more than two decades. Speaking about the potential of reconciliation, she said: "I would want to hear her story. It's not healthy or healing to carry around all that bitterness."
Like this story? Sign up to our What to Watch newsletter to get other stories like this delivered straight to your inbox.