CBS reveals shake-up concerning a hiatus for NCIS: Hawai'i
When a show has been around for as long as NCIS has – which is twenty years – and has the loyal following it does, little riles fans up as when there's an unexpected shake-up.

NCIS and its several spin-off shows have always been a reliable source of entertainment for fans, and just as fans prepare to say goodbye to NCIS: Los Angeles – the franchise's first and longest-running spin-off – after fourteen years, there's another shake-up happening over at the other spin-off.
CBS has revealed a slight schedule change to NCIS: Hawai'i, and fans shouldn't expect to see the show on its usual Monday night spot on their television guide.
WATCH: Inside The Real-life Partners Of The Cast Of NCIS
https://www.hellomagazine.com/film/20230322167467/ncis-hawaii-shake-up-revealed-hiatus/
Though it is unclear why – spring break? – viewers of the show will have to bear with not one, not two, but three weeks of the show not being on.
The last episode fans of the show got to enjoy was episode 17, "Money Honey," which aired on March 20, and saw Captain Joe Milius, played by Enver Gjokaj return to Hawai'i, as the NCIS team pursued a dangerous target within the United States government.
MORE: NCIS: LA's Daniela Ruah shares first-look at new role away from show – and it's seriously tense
The lengthy hiatus comes just as the end of its second season approaches, and the show won't kick back up until April 10th. Little is known about the 18th episode, as a synopsis has yet to be released, only that it is titled "Bread Crumbs."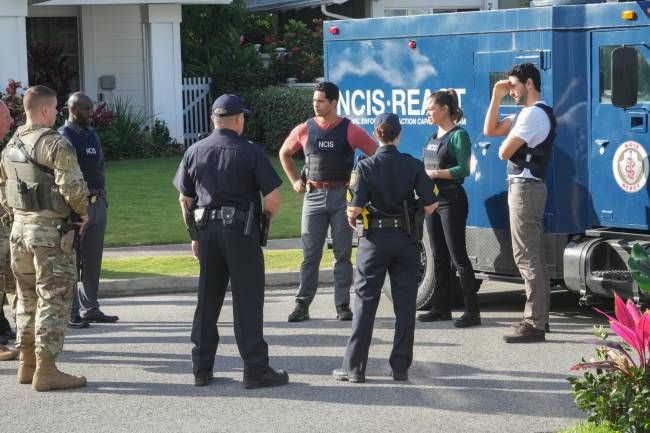 NCIS: Hawai'i stars include Vanessa Lachey, Jason Antoon, Tori Anderson, Yasmine Al-Bustami, and more
However, should fans want to reminisce over the show's second installment as it draws to a close, they shouldn't worry that no NCIS: Hawai'i episodes will whatsoever during its usual 10pm EST slot.
In place of a new episode for the next three weeks, reruns of the show will be aired on Mondays instead, with the exception of on April 3rd, when a sports championship is taking place.


The last episode saw the return of Enver Gjokaj's character, Captain Miliu
Next Monday, March March 21, fans will get to see "Vanishing Act," the second season's seventh episode.
NCIS airs on CBS at 9pm EST, followed by its NCIS: Hawai'i at 10pm EST. NCIS: Los Angeles airs Sundays at 9pm EST.
Read more HELLO! US stories here